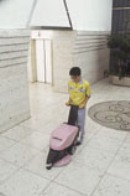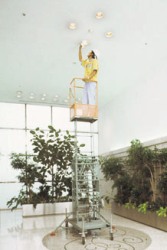 Cleaning management services cover not only floor surfaces but also three-dimensional elements, such as walls, doors, office fixtures and equipment. They are designed to maintain a balance between good appearance and proper sanitation according to the special features of each room.
 The elements involved in cleaning management vary depending on the use of a building. In addition, it has to be conducted to satisfy the special properties of the diverse range of flooring, walling, metallic and stone materials in use today.
 The basic method of cleaning management has recently evolved from "post-cleaning" to "preventive-cleaning." This involves applying treatment before dirt accumulates and taking steps to prevent dirt from entering the building in order to maintain a good appearance and proper sanitation. The "dry method" that avoids the use of liquids is perhaps the cleaning method most suitable for contemporary buildings.
 In this way, today's cleaning management services amount to more than just an accumulation of simple cleaning work; they require professional knowledge and management skills. Some of the 600,000 "clean crew" members are trained to become "building cleaning technicians," qualified cleaning management service professionals.
 To improve quality, the "Building cleaning management inspector" system was also initiated in 2001.