Exhibiting Fees (2 days for Preparation, 3 days for Show Period)
One booth = approximately 9.0 sqm (2.97m(W) X 2.97m(D) X 2.7m(H))
Standard Booth@
*Consumption tax included
1st Booth
After 2nd Booth
JPY486,000
JPY432,000


iper booth)
Facilities included:

- Side and back partition walls (white)
- Electrical wiring work for 100V / 300W (a breaker switch only - no outlet)
- Booth number plate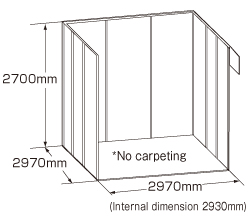 1 Booth with Package@
*Consumption tax included
1st Booth
After 2nd Booth
JPY626,400
JPY572,400


iper booth)
Facilities included:

- Company name on fascia board
- Side and back partition walls (white)
- One information desk
- Electrical wiring work for 1.0kW(100V / single phase)
- Usage charge until 1.0kW@@- Booth cleaning for three days
- Carpeting@@@- Booth number plate
- Three spotlights@@@- One power outlet
- One folding chair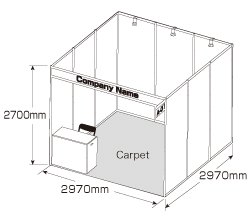 Optional Fees@
*Consumption tax included
Corner Booth Choice Fee
JPY86,400
Booth locations at this show will be assigned by organizer. If an exhibitor does not wish to be assigned by organizer, the exhibitor will have the option of applying for one of the corner locations; the assignment of the latter will be guaranteed.
EXHIBITING REGULATIONS
œQualifications

The Exhibitor must, at all times, adhere to all regulations set forth by the Exhibitor Manual as well as the Organizerfs instruction.
The Organizer reserves the right to reject or nullify the Exhibitorfs application with regards to admitting the Exhibitor or exhibiting content which does not fall within the scope and purpose of the event. The reasons for the rejection will not be disclosed. The Organizer is not responsible for any exhibition preparation expenses.

œApplication for Exhibition Space

Application method: Application form with ALL sections completed.
If you did not exhibit at Japan Home & Building Show 2016, submit a copy of a company profile or brochure and a catalogue of products to be exhibited (or the Exhibitor's general product catalogue) with this Application Form.

œPayment of Exhibition Space

The payment method and due date are as follows:
* Payment should be made in JAPANESE YEN ONLY.
* Payment is due within: 2 weeks of the invoice date.
* Bank transfer fees are NOT included in this amount.
* All Bank transfer fees are to be covered by the Exhibitor.
* Your booth is only ready when payment is made in full.
* Please inform us when the payment process is complete.
If the full payment is NOT made by the due date, the exhibition space may be cancelled and allocated to another applicant. A cancellation fee may also be applied.

œEstablishment of a Contract

The contract for participation in the Exhibition shall become effective between the Organizer and the Exhibitor as of the issuing of an invoice by the Organizer to the Exhibitor for participation fees pursuant to these Rules and Regulations.
œCancellation by the Exhibitor

No cancellation of this Contract is admitted without the Organizer's consent. In the event of the Organizer agreeing to any request for release from the Contract or in part, the Exhibitor will be liable to cancellation fees as follows:


1) 50% of the fee (excluding tax):
FROM the next day of application deadline TO the day before the Official Exhibitor Meeting (until the day before the Japan Home & Building Show Secretariat determines the booth number unless the Official Exhibitor Meeting is held).

2) 100% of the fee (excluding tax):
FROM the day of Official Exhibitor Meeting (until the day before the Japan Home & Building Show Secretariat determines the booth number unless the Official Exhibitor Meeting is held).

œFacilities Construction Expenses

1) Exhibitors planning to use electricity, gas, water, telephone services, etc., during the exhibition period will be required to submit separate applications and pay all the fees for both construction and usage charged by each service contractor.

2) Exhibitors are responsible for expenses regarding transportation, move-in and move-out of materials, as well as insurance premium on the exhibits and the Exhibitor.

œLayout of Booths

The Organizer alone shall determine booth layout taking into account previous results (such as number of times of participation in the Organizerfs Exhibition), number of booths, items, to be exhibited, demonstrations, and order in which application is received.

œPrivacy Policy

Any personal data from the Internet and barcode services is subject to the privacy protection policy.